He's like Ann Landers with a chainsaw! Or Dr. Phil with holy water! Or even Dr. Joyce Brothers with a smokin' hot DVD player! It's Doc Splatter and his Advice Column of the Supernatural — The Gore Score!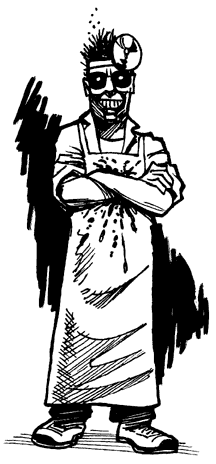 Borne out of the fevered subconscious of a mild-mannered college undergrad, Doc Splatter is the id personification of hundreds of splatter movie rentals made corporeal. Doc Splatter's movie reviews and advice column comic strips ran for several semesters in the University of Nevada, Reno's Sagebrush newspaper. Spurred by a massive (house) ad campaign, students and faculty alike began writing Doc Splatter for advice, and every letter answered in his column earned a "goodie" for the letter writer.
After an apparent suicide, Doc Splatter left the public view for many years, only occasionally being spotted by disreputable witnesses. A book emerged in 2009 — Doc Splatter Ominous Omnibus — collecting every Gore Score comic and tangible scrap of his macabre existence. I highly recommend it. Here's a graphic depicting a typical page in the Omnibus.
It appears that The Doc is still alive, occasionally dispensing advice from a secluded mountain cabin far from the prying eyes of polite society. If you wish to contact him, you can reach him here.
I managed to acquire medium-quality photocopies of the original Gore Score strips and remaster them (originals were either long-since destroyed or given away as prizes). They are located below, with more-recent columns at the top.