Get to know some of the more… interesting characters of Spittle Beach, CA!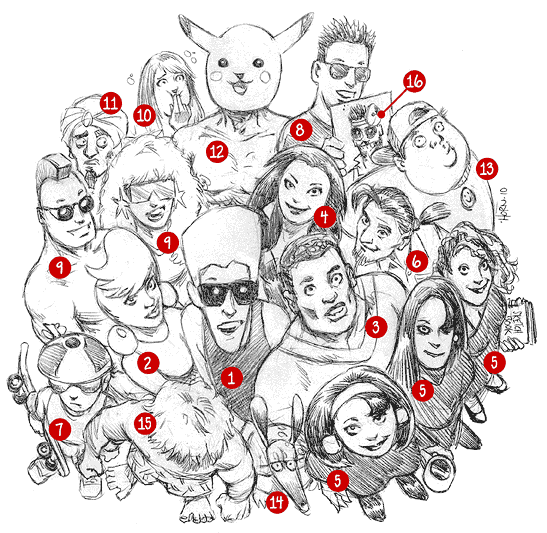 Armpit Beachhead
• He is the "Cool Jerk."
• Slacker, part-time hedonist and BMOB (Big Man on Beach).
• Alpha-male with ego to spare.
• Thinking ahead is not his strong suit. Neither is thinking after, about or near.
• Puppy's boy toy.
---

Puppy Fizgig
• The heart and soul of Cool Jerk.
• Coffee bean technician and undergrad majoring in fashion.
• Girls just wanna have fun. And peroxide. And Cocoa Pebbles.
• Sharp as a tack, crazy like a fox, cute as a button, fists like little pink mallets.
• Armpit's gal pal and — oft-times — surrogate voice of reason.
---

Manhattan
• Honor-roll college student and apathetic armchair activist.
• Sheep in wolf's clothing.
• He's got two tickets to the gun show AwwwyeahyouknowwhatI'msayin'.
• Closest thing this strip has to a responsible adult.
---

Yuri Tomato
• Japanese exchange-student überhottie; distraction to any hetero male.
• Celebutant-in-training.
• Relationship-challenged.
• Geek grrl with one foot still in the closet.
• What can we say? She's a tomato.
---
The Lynch Mob
• Trio of art-school Goth chicks who idolize David Lynch.
• Sisters? Dorm-mates? Lovers? Haters?
• Fueled by sushi, caffeine and clove cigarettes – touch at your own risk.
• To them, black will always be the new black.
---

Manuel Dexterity
• Freelance special effects artist and emo creative-type.
• Fluent in both graphic design and graffiti.
• Knows less Spanish than you do.
• Teh ghey (post-gay, actually).
• Single handedly saved Spittle Beach from Comic Sans.
---

Maggot
• Pre-pubescent public hazard.
• Closest thing this strip has to a talking animal.
• Gen(der)-X skatepunk. Annoying, offensive and out of control.
• Armpit's arch-nemesis. And Puppy's. And polite society's. And yours.
---

Goremonger
• Mild-mannered OP (original prankster) with an unhealthy interest in gory horror movies.
• Basically harmless, more of a geek than a freak.
• Can be found where the "dark side" and the "dork side" overlap.
• Occasionally succumbs to his alter-ego "Doc Splatter."
---

Sunset & Rocket Tudemax
• Hard-rockin' friends from Armpit & Puppy's high-school days.
• Still trying to make it big in the underground music scene.
• Their daily life is an over-produced music video.
• Cum on feel the noize.
---

Seashelly Dumpster
• Spittle Beach's volunteer lifeguard. You get what you pay for.
• Not keen on the whole "wait an hour after eating" rule…
• Has a problem keeping things to herself (i.e. her lunch).
• Job description: sight gag. Emphasis on "gag."
---

Ah-Kan Dahak
• Wow. A bigger jerk than Armpit.
• Middle-Eastern mystic allegedly in tune with the metaphysical world.
• Charlatan, fake or fraud? You decide!
---

Pokéyman
• Rollerskating prophet with pierced nipples and a thong.
• One with the cosmos.
• Or maybe just stoned. Who can tell? He's wearing an electric hamster on his head!
---

Stubby the Stomach
• Spittle Beach entrepreneur and socialite.
• Fights for the right to paar-taaay.
• The sharks are just waiting… just waiting…
• More to love.
---

Dr. Armadillo
• Because you asked for it. Seriously.
• He's a talking armadillo from Dimension T (Texas) bent on world conquest.
• Last seen inhabiting the body of a 1993 Playboy Playmate.
---

Dangerman
• Alter ego: Dan German. (I said "alter ego," not "secret identity")
• Middle-aged freeloading burnout who thinks he's a superhero.
• Living Legend of Spittle Beach.
• King (Kahuna) without a throne.
---

Doc Splatter
• Proof that too much of a good thing (i.e. splatter movies) can be bad for you.
• Advice columnist of the supernatural; think Ann Landers with holy water and a chainsaw.
• Welcome to CrazyTown. I see you've just met the mayor.